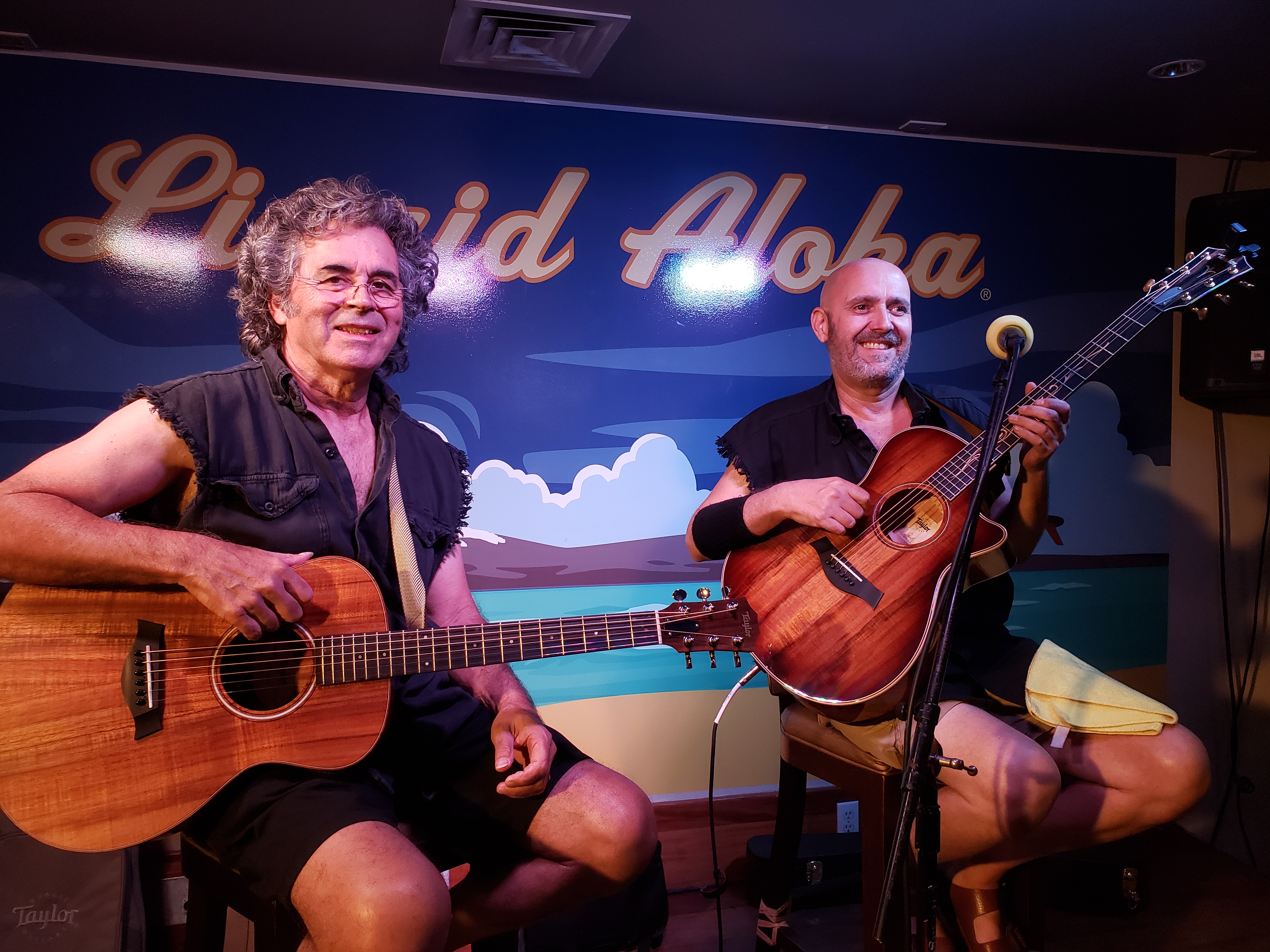 We will update this page with our blog
Bad Papa Blog Page
==========================================================
 An Email we received:
I love listening to my Lava Steamroller CD!!  Thank you so much for it!  It is a feast for my ears.  The lyrics are spot on.  The rhythms are hypnotic and convey the movement of the islands. Through Google searches, I learned that Joe has the father and grandfather's who played trumpet in San Francisco with deep roots to the Lyman family of Honolulu.  The background guitar fingering of Lava Steamroller captures Pele's persistent joy while reclaiming her land as she destroys places dear to us.  I play it on an old stereo with a 6 CD magazine accessing the songs randomly.  The CD holds its own with those of IZ, Keali'i Reichel, Brothers Cazimero, Amy Hanaiali'i Gilliom, and the Beamers, almost all of whom I have heard in person.  Pretty heady competition!  But I get an extra kick when a Lava Steamroller song begins.
WOW MAHALO!!!
Kupuna Events
We absolutely love getting paid for doing something we love to do. Writing, producing and performing great music is a lot of hard work, so we don't like to play for free!
However, we do love to perform for our kupuna (elders) at the Regency retirement home in Kona, HI. The responses and questions we get are truly payment in itself! Here are a few of our favorites;
1. " I can't remember the last time we had such good music, but then again, I can't remember anything"
2. "Do you know Yellow Rose of Texas?"
3. When I was 17 years old, I smoked a doobie with Carlos Santana!".........Priceless!
==========================================================
Adventures of a Blind Big Island Musician
So we're playing a show at Dona & Toni's in the Hilton Waikoloa Village Resort, and Bob and I are having an extremely good
performance. We are playing in the lounge for customers waiting to be seated in the main dining area. I heard the hostess telling a 
large family "Well, we could bring your meal here if you'd prefer". I knew they were digging our music, but wow, that's cool!
 Between songs, Bob usually asks folks where they're from, but not a word this time, so I decide that I'm going to ask "Where are you 
folks from?" 15 seconds of silence goes by and then I hear "Hai,.....Japan".
I respond with my best domo arigato goziamos. Then I hear in a very deep Japanese voice reply "Very good!
The family stayed and listened to us for two hours. After the show, the head of the family came up to me and reached out his hand.
Bob told him that I could not see his hand, and he was blown away when he realized that I am blind. He grabbed my hand and said to 
me "Music, what kind?" I told him Hawaiian. "Ah, Hawaiian" he replied. Then I said and Spanish. "Ah, Spanish" he replies. I then tap
Bob's chest and my chest to tell him that our music is from our hearts. He understood! He squeezed my hand and said to me "Very 
soulful and very difficult" in that beautiful deep Japanese voice. It made our night, and I will never forget that man and his wonderful 
family for as long as I live! Aloha
 ==========================================================